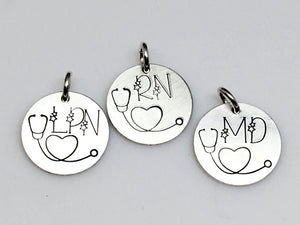 I stamped these at the beginning of 2020, took a picture a couple months ago, and was planning to take them with me to a big show in Oaks, PA near Philly. Well...Corona Virus happened, shows got canceled and threw me into a very big artistic funk with all the stress and worry.  So, I put art aside for a while to concentrate on home, kids and work (I am an LPN). I am finally at a place to move forward and make art again, concentrate on online things until shows start back up and shops reopen.
The funny thing about this star font. It was an "oops". I MENT to order a very plain large font, and instead hit this one and didn't realize until I got it in the mail. I thought..."eh, maybe I will stare at it and figure out a way to use it". Well, this is what I came up with. Even if I use it for nothing else, it was the best "oops" in a while. 
D E S C R I P T I O N
Sterling Silver 16mm or 5/8" 20g disk. This is a thick/substantial charm. I give each of these a brushed finish by hand then fill in the impressions with an oil based ink that will last through years of wear. Please do not use chemical cleaner on this, as it will pull out the black color in the impression.
Please choose from the drop down box "LPN", "RN" "MD". There are certainly other titles I could stamp, shoot me an email if you are interested in another. amandaleonhart@yahoo.com
This may not be the exact charm you receive, I make these to order as they are sold.
Need a chain? https://brassypeacockdesigns.com/products/sterling-silver-ball-chain
H A N D S T A M P E D
*All items are handstamped. I do my best to ensure meticulous spacing and placement of letters and words. Handstamped is different than machine engraved. It is done one letter/number/image at a time by hand. I place the letter/number/image on the metal and use a hammer to imprint the image into the metal. 

C A R E * T I P S
-*Will my sterling tarnish? Yes! It will. Use liquid cleaner or a polishing cloth as recommended here in the Care Tips. 
-Do not wear your jewelry in the shower/bath, in a pool or when using harsh chemicals
-Take off jewelry when going to bed, working out or cleaning
-Do not use harsh cleaners. Soap/water and a soft cloth is all you should need. You can use a jewelry cleaning cloth to lightly polish metals
R E T U R N S
If an item is not to your satisfaction, please contact me, as I want us to both to be happy with your purchase. Exchanges due to sizing issues will be accepted from items that are unused. I may not be able to reproduce an item if it is a "one of a kind". Please contact me if you need to exchange due to sizing. Returns will be accepted once from a customer. *I am sorry, I cannot accept returns on earrings.
Buyer pays return shipping to me. Please ship via USPS with tracking and retain tracking information.