Featured pieces. Select "All Products" for all available pieces.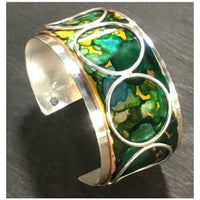 Where to find Brassy Peacock designs in Person
Where am I next? Come See me at
Lake Latonka Fall Festival 9/11/21
Goodell Gardens Homegrown Harvest Festival 9/12/21
Franklin Applefest 10/1-10/3 2021
Peekn' Peak Fall Fest 10/9-10 2021
Boro Women and Family Services Event at Nick's Place (tickets needed) 10/17/2021
General McLane Annual Holiday Arts Fair 11/20/2021
Hand Stamped is different than engraved or machine made. It is done, by hand, one letter/image/number at a time, with a separate blow of a hammer for each one. All done by my hands and my eye.  This technique involves steel tools that imprint the images from the single stamp into the metal. No computers or machines involved. It is very much hands on and I love what I do!